More About Cake & Centerpieces
Yesterday was our 3rd anniversary! It's a little hard to believe that Sam and I have been going out for 3 years. Sometimes it feels like we've been together for much longer than that, sometimes it feels like it hasn't been that much time at all. I took Sam out for a swanky dinner at a fondue restaurant called The Melting Pot. I've been wanting to take him there for about a year now. Fondue is fun! And delicious. We had a great time!
On Saturday, we had our 8:30 appointment with Siblings Bakery. And everybody was totally right, cuz they didn't really care that we were a no-show the previous weekend, and they were super nice. What's more, their cakes were delicious! Sam ate everything on his plate, uttering many "Mmm" noises in the process. The cake ladies said that if they stuck him in a corner and fed him cake while customers came in, he'd be good for business. (LOL) And when I showed Shirley (the owner) pictures of the cakes I liked, she was immediately spouting off ideas and showing me samples of similar things she made, and mixing together icing colors so the cake would be just the right shade of blue. Awesome! So we booked them on the spot. And for $250, I'm getting a 3 tier square marble cake (so yummy!) with fresh strawberry and bavarian cream filling. The cake will be iced in pale blue (I can't help it! I'm obsessed!) buttercream, decorated with chocolate branches and pink cherry blossoms with violet centers. So, it'll look like this picture (which I've posted before), only square, blue, and without the cute Japanese cake topper. I'm having a "decorative pile" of the blossoms on top instead.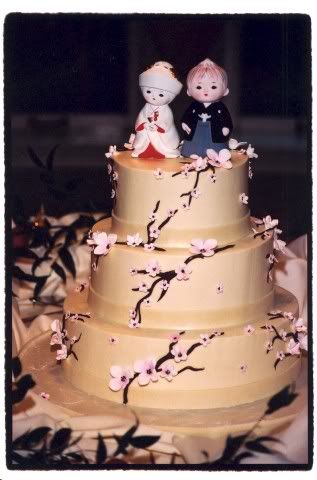 (This part gets a little rambly, so I apologize in advance... )
I've also been debating about what else to put on the tables besides the oriental lanterns I bought a while back. I had thought about making flower-shaped jar lanterns, but I'm pretty sure they'd clash. And they're likely to be a little time consuming. So I guess I'll just have to make them for some other occasion.
I had always wanted flowers on the table, since we won't be able to have our reception at a garden. So, you know, if I had plants or flowers everywhere, I could bring the garden to the reception. I thought about using paper flowers, but there's the problem of candles on the table and paper being highly flammable. So I'd have to figure out if getting LED candles would really save me any money in the long run. Anyway, I broke down and bought the recent Martha Stewart Wedding magazine, featuring tissue paper flowers. Look how cute they are!
I tried making some this weekend, and some turned out better than others. A couple of them weren't too hard to make, so I might make some for placecards, but I'm not sure if I should do them for centerpieces. Again, they'd be pretty time consuming. Cut flowers in vases or jars would be pretty, but fairly expensive. And they'd be hard to care for in amongst all the wedding week craziness. So I went hunting for plants at the garden section of the Do-It Center. I found several types of flowering plants for under $4. Not bad! The most promising ones seemed to be the mini-rose plants. They weren't the cheapest at $3.99, but not expensive, I don't think. They'd also be really easy to care for. I could just go buy them the day before, give them a little water, and plunk them in cheap terra cotta pots. So that's looking like the most likely option.
Why are table decorations the most difficult decision in planning this wedding? Ridiculous!